Here at MiniInTheBox we have a wealth of fantastic, creative and fun products available. In fact so much so that the choice can get a little overwhelming (so much to buy, so little time)! That's why this week's LITB Blog post is dedicated to my personal top five favourite items in our gargantuan catalogue.
5.) In at number five is the Bluetooth Vibrating Call Alarm Wrist Band (compatible with most mobile phones).
There are so many situations in which this vibrating wrist band comes in useful; if you are in a noisy place, if you need to charge your phone out of ear shot, if you need to keep your phone on silent, or if you just happen to leave it on your desk at work whilst you go to the printer. This handy (pun intended) wrist band will ensure you will never miss a call that you want to pick up again.
4.) Taking the number four spot is the Portable USB Solar Panel Charger for iPhone 4/3G/3GS/Mobile Phones. If you, like myself, are a bit of a phone addict, then a solar powered phone charger is a Godsend. It cuts back on electricity bills and usage (take that pollution!), and allows you the flexibility and freedom to charge your phone anywhere! On the beach in a remote Thai Island? No problem! At a music festival? Sure thing! Hiking in the mountains? A-Okay!
With this fantastic little piece of kit you can stay connected even when you're far away from the reach of civilization.
3.) Number three has to be the Long Focal Lens Tripod Set for iPhone 4S/4. Now, If you'd have asked me if I'd have bought a long lens and tripod for the iPhone 3G, the answer would have been a solid no, but the quality of the camera on the iPhone 4 (and especially 4S) is a huge step up from it's predecessor! It's zoom is a bit weak but that's exactly where this lens and tripod combo come in handy. You have a powerful 8X zoom lens at your disposal, and a tripod to keep everything steady if you decide to max that zoom out! Plus the tripod offers the obvious benefits of taking night shots that aren't blurry past recognition.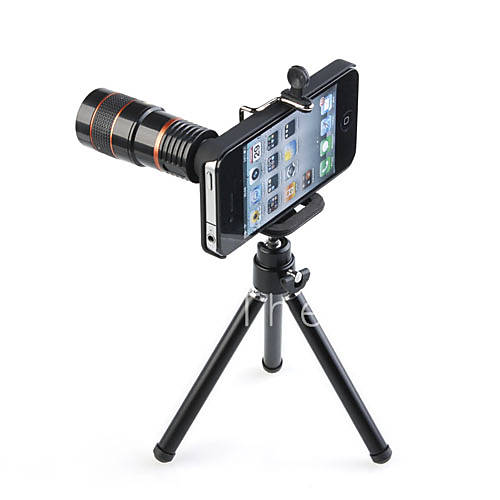 2.) In at a very tight second place is the iCam Helicopter with 0.3 Megapixel Camera for iPhone, iPad and Android. Yes, that's right, you can control a HELICOPTER from your phone. If you'd have told this to somebody even 20 years ago they'd have been all like "What's with all the crazy talk, future man? Calm down and drink this Crystal Pepsi."
So, anyway, the iCam Helicopter is a phone controlled helicopter with an attached 0.3 mega pixel camera which saves video on to a 2GB micro SD card (included). It's much more balanced and sensitive than it's predecessors and provides up to 60 minutes of battery life at any one time.
1.) The top spot has to go to the Karlton 2 – 320k Pixels Mobile Theatre. This is a product from a "Back To The Future"-esque reality that has actually come to fruition. It's ideal to take on plane or train journeys – just upload your films on to a micro SD card (Compatible with SD cards up to 32GB), charge up the glasses and you're good to go. Not only do you get to watch and listen to a movie entirely in your own little world, but you also get to look like that awesome dude who wears a visor in Star Trek! Could it get better than this?
Are there any other items that you love from our website? Let us know below!